COP27: Recognizing the power of agriculture
Food and land use systems are a crucial part of the solution to the climate crisis: their transition to sustainability and zero-carbon could contribute up to one third of the emissions reductions needed to limit global warming to 1.5°C. These systems are also highly vulnerable to the impacts of climate change. Around the world, farmers find themselves on the frontlines of the crisis, battling rising temperatures, shifting rainfall patterns, and increasingly frequent extreme weather events.
By achieving a just transition to sustainable and equitable farming, we can build resilience, adaptation, and food security, while protecting nature and mitigating future climate change. To do this, we must listen to and learn from the farmers who form the backbone of our planet's food systems. Their unique experiences and expertise are key to tackling the challenge – but also an enormous opportunity – that lies ahead.
At COP27, the central importance of agriculture to climate must not only be recognized, but it must also be translated into political action. Negotiators and policymakers must actively ensure that all climate policies, planning, and budgeting includes agriculture front and centre, reflecting the needs and perspectives of farmers and those most vulnerable to the impacts of climate change.  
Both public and private finance will be needed to meet the challenges of climate adaptation and mitigation in farming. Public finance must be leveraged to encourage private investors by de-risking investments and private ventures should be aware of the significant opportunities at hand. In this way, both public and private investment can not only protect our planet but also support more vibrant and resilient food and agricultural sectors that protect livelihoods, create jobs, and drive a thriving economy. 
Building on Progress
At COP26 in 2021, the first steps were taken. As part of the COP26 UK Presidency's Nature Campaign, we worked with the Presidency, the World Bank, and dozens of countries and civil society organizations to build support for the Policy Action Agenda, designed to provide a range of concrete actions to accelerate a transition to sustainable and equitable agriculture. We also became a partner of the Race to Resilience, a global campaign mobilizing businesses, investors, cities, and civil societies to strengthen the resilience of four billion people by 2030. This work gave us a firm basis for making the just rural transition a reality at COP27.
The implementation COP

 
Egypt's COP27 Presidency showed commitment to putting agriculture centre stage as a laudable and much-needed approach – by dedicating an entire day to adaptation and agriculture. For true success, however, we must see a shift from high-level discussions to time-bound, practical goals and concrete implementation of the policies that will lead to a just transition. Only action on the ground can achieve the changes needed.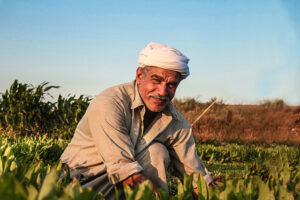 A key part of making that happen was guaranteeing that food producers are an integral part of the proceedings at COP27. In partnership with the World Farmers' Organisation, we supported farmers to attend the conference and share their unique insights and knowledge and exploring how to bring other frontline community representatives to COP27. For those farmers and farmer organizations unable to attend in person, we produced a range of hybrid events, videos, and blog posts to make sure their voices were heard.