JRT Publications, Policy Action
---
Success criteria for a transition to sustainable agriculture
While more food is being produced today than ever before, food systems are failing to deliver for people, nature and climate. A just rural transition is urgently needed to provide nutritious food to a growing global population while protecting natural systems which sustain life. However, those implementing such a transition need to have a clear idea of what success looks like to translate these into quantifiable indicators that can be applied nationally and compared globally.  
In the context of the COP26 Glasgow Leaders' Declaration and Policy Action Agenda for Transition to Sustainable Food and Agriculture, the Just Rural Transition initiative proposes three high-level criteria for a successful transition to sustainable agriculture. 
The success criteria focus on people, climate and nature, and are based on outcomes rather than activities. Each category contains three sub-criteria, indicating core measures of sustainability.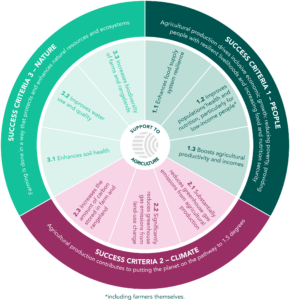 Proposed indicators for measuring progress are based (as far as possible) on two principles: indicators already agreed at global level through international agreements (particularly the Sustainable Development Goals and Rio Conventions) and indicators for which globally comparative data exists.
The indicators are not aspirational goals, but form a starting point for countries to focus on reporting against indicators they have already committed to. And while these criteria do not exhaustively reflect all aspects of sustainable agriculture, they provide a starting point for action at national and global levels.
Indicators for People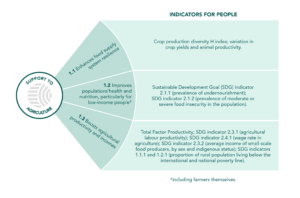 Indicators for Climate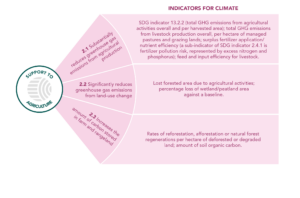 Indicators for Nature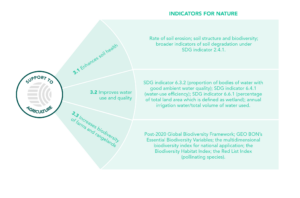 Actions that affect success in one category can also affect success in another category – both positively and negatively. There may also be trade-offs between desired outcomes at a farm level and those at a landscape level, or even at a global level. 
At a minimum, sustainable agriculture policies and programmes should show progress against indicators for two criteria and 'do no harm' against indicators for the other. Issues of gender, rights of Indigenous peoples and local communities, and equality more generally, need to be measured within the proposed indicators. 
These are not an exclusive set of standards, but indicators of what good outcomes may look like to mobilize action. They will continue to evolve and develop with increasing data availability and in light of discussions around different contexts and in different countries. 
Read the full discussion document here.