It pays to invest in a just rural transition
4 October 2022
Food systems lie at the heart of the global economy. From smallholder farmers to retail giants, the production, trade, transport and consumption of food employs over a quarter of the world's population and generates $10 trillion every year – 12% of the global economy. Food systems also hold the potential to generate trillions more in new business opportunities and reduced costs while advancing climate, nature and livelihood goals. 
In many ways, however, our food systems are failing to deliver on these goals. This week, a report from the UN Climate Change High-Level Champions found that the financial impact of realistic nature and climate transition risks means some of the world's most valuable food and agriculture companies could lose up to 26% of their value by 2030, with permanent sector-wide losses equivalent to the 2008 financial crash.  
Food production contributes one third of all greenhouse gas emissions and is the leading driver of habitat loss. Agricultural workers and their families make up the majority of people living in extreme poverty. And the number of people unable to access sufficient nutritious food has been rising since 2014. Today, 2.37 billion people – almost one third of the world's population – suffer from food insecurity. The financial cost of these environmental, economic and health failings totals $12 trillion annually: $2 trillion more than the systems' market value. 
It's clear that food systems and the smallholders who underpin them require urgent investment if they are to nourish a growing global population, support rural livelihoods and contribute to global climate and environmental targets. The financing gap for farmers in the Global South – roughly $170 billion a year – requires new models and strategies which recognize the roles of public and third sector funds while shifting incentives to open up clear business opportunities for investors and the private sector. Better coordination of roles and services between various actors can lead to risk mitigation (also known as 'de-risking') and increase investment attractiveness.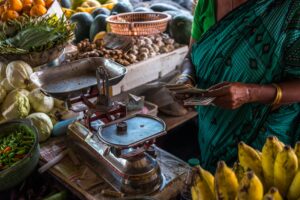 Why invest in a just rural transition? 
Food systems are being increasingly recognized as prime targets for impact investment and stakeholder capitalism, which sees companies create long-term value by considering the needs of all relevant stakeholders – as well as wider society and nature – when making investments and pursuing business opportunities. Pursuing more than economic value is becoming increasingly important, as is also visible in the many recent environmental, social and governance commitments businesses and investors have made, such as 2050 net zero goals, which now require a review of their portfolios and business operations. 
This shift also recognizes the fact that sustainable food systems hold great financial promise. Although food and agriculture currently constitute a small fraction of global investments, interest and activity are growing rapidly. The number of funds operating in this area has ballooned from just 38 in 2005 to 446 by 2017, with combined assets now totalling $75 billion. Moreover, gross domestic product growth in agriculture is on average twice as effective at reducing poverty than in other sectors. In resource-poor low-income countries it can be up to five times more effective. A growing number of companies and investors are realizing that supporting a just rural transition pays dividends – through cost savings, improved performance, reduced risk, green market premiums and especially new opportunities. A sustainable transformation agenda for food and land use systems would create new business opportunities worth up to $4.5 trillion a year by 2030, compared to an annual investment cost of $300-350 billion. 
By investing in sustainable and equitable rural communities, companies can future-proof their own businesses against the pressures of a changing climate and growing global population. For instance, the Moringa Fund, which supports agroforestry projects in Latin America and sub-Saharan Africa, has promoted the cultivation of rust-resistant coffee species for its growers to avoid crippling yield losses experienced in previous years. This has strengthened their supply chain as well as safeguarded rural livelihoods. The agricultural productivity of the world's least economically developed countries is predicted to drop by as much as 20 percent over the next 60 years due to climate change, with serious knock-on effects for global supply chains and agri-businesses. By investing in climate-resilient agriculture in these countries, however, businesses can help avert these predicted losses and protect their supply chains. 
Investing in a just rural transition also allows businesses to stay on top of the growing global network of legal and regulatory frameworks aiming to govern the environmental and social impacts of the private sector. Internal carbon pricing, for example, offers a way for companies to assess the profitability and viability of a new investment or operation by revealing their climate costs and encouraging carbon efficiency. This allows companies to stay ahead of potential future carbon pricing legislations and other sustainability-related policies and regulations. Business should also review how operations and procurement practices may impact a just rural transition. In particular, they should adopt responsible and inclusive procurement models to ensure smallholder farmers have fair access to markets and can sell their products at a price which adequately remunerates their work and investment. 
Additionally, rising consumer interest in sustainable produce and fair trade means that commercial reputations are increasingly staked on companies' green and social credentials. By successfully supporting efforts like the Paris Agreement and the United Nations' Sustainable Development Goals, a business not only contributes to long-term sustainability of our society but also stands to strengthen customer loyalty, attract new customers and enhance brand value.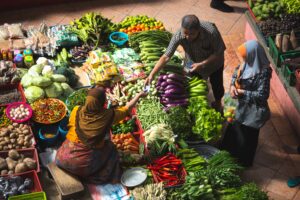 Enabling investment 
Despite the growing recognition of the investment opportunities presented by a just rural transition, a financing gap still exists. A raft of investment instruments and incentives are needed to address the barriers to close this gap. The use of technology holds particular promise for a just rural transition. Although investment in agricultural research and technology is needed to secure long-term sustainability and equity for our global food systems, impacts can be achieved right now through the rollout of relatively simple mobile and digital technologies, such as mobile layaway services and agricultural information services. Access to such tools, together with relevant training, can help smallholders connect with wider markets, find accurate pricing data and access financial services. 
Public-private partnerships and blended finance will be key to strategically deploy capital and resources to address investment barriers, such as complex value chains, unattractive return profiles and a lack of technical knowledge. Credit guarantees, subsidies, technical assistance and financial incentives for achieving pre-agreed development outcomes can all be used to make investment in food and agriculture more attractive to the private sector. Collaborations between financial actors, the public and those that make up the agri-food and land use value chain are essential to move ahead with a just rural transition. 
Farmers, agricultural SMEs, companies, policy makers and financial actors – public and private – as well as other stakeholders can work together to create a functioning ecosystem where collaborations bloom and partnerships lead to innovative and sustainable results. This way, investors can promote people-centred rural development that advances equitable livelihoods, safeguards nature and strengthens climate resilience – all while opening up new business opportunities, improving performance and reducing risks and costs. Catalytic finance can be followed by significant further investment in food systems and contribute to a systemic shift benefitting the economy, people, climate and nature. However you look at it, a just rural transition is a sound investment.