Building more inclusive food systems at Africa's Food System Summit
5 October 2023
Over 5400 delegates from 90 countries joined the Africa Food System Summit (AGRF) in early September in Dar es Salaam, Tanzania. As governments around the world grapple with the shocks from multiple crises, discussions in Tanzania turned to how Africa's food systems can recover and regenerate, while actors along the value chain can act together to accelerate food systems transformation through innovative practices, policies, and investments.
Just Rural Transition (JRT) joined the conversation at a side event co-hosted with the Food System Economics Commission (FSEC), IKEA Foundation, and World Resources Institute Africa to talk about a principle-based approach toward thinking about the future of jobs in food systems. The session's panel featured a diverse array of speakers spanning agriculture, research, policy development, private sector investment, and youth empowerment from the Global Alliance for Improved Nutrition (GAIN), Farmer on Fire Limited, Zebra Agro-Industires, and Hendylite Consultancy. JRT's Executive Director, Melissa Pinfield, spoke to our Principles for Just Food System Transitions report, which was launched earlier this year and lays out ten guiding principles for achieving just food system transitions.
What about jobs? Challenges and opportunities for rural livelihoods in an inclusive food system transformation also focused on the effective management of food systems transformation to avoid exacerbating vulnerable livelihoods and to foster improved job opportunities, particularly for young people entering the agricultural sector. It featured the findings of FSEC's latest Policy Brief on Africa, underscoring how food systems transformation in Sub-Sharan Africa towards health and environmental benefits must be balanced with livelihoods and labour issues, including those affecting small producers. A call to action was issued advocating for youth empowerment and the inclusion of local communities in crafting and implementing Africa's food systems solutions, while underscoring listening and collaboration as key tools for success.
"Youth is not a cultural tribe. To drive food systems transformation, we need youth inclusion, innovation, and job diversification."

– Antoinette Moleele, Climate Smart Agriculture Youth Network Global (CSAYN)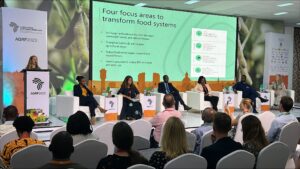 The UK Foreign, Commonwealth & Development Office (FCDO) and World Bank also joined JRT to co-host the side event Inclusive Policy Action for Transformation in Agriculture. The session brought together a multi-stakeholder panel, including the Eastern African Farmers Federation, Young Emerging Farmers Initiative, Acumen, and 4SD to discuss how policy frameworks set by governments can provide enabling environments for food and agriculture transition pathways to create resilient rural communities, food security, and healthy economies and landscapes. The event again saw a call for policies to be designed with youth involvement, particularly as a population majority in many East African countries. Farmers were also highlighted as instrumental for an inclusive policy process with their understanding of the issues on the ground and the data and innovative approaches required for local transformation.
"We need resources in terms of human capital, people who understand the [policy] process — of course, money — and public consultations at the national level. We need a team that doesn't get tired. As farmers we are patient, and we are still pushing."

– Elizabeth Nsimadala, Eastern Africa Farmers Federation (EAFF)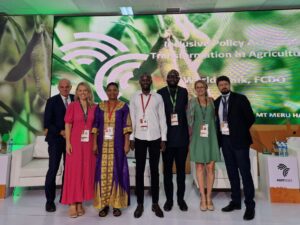 The discussion was built on the foundations of a Policy Dialogue convened by the UK FCDO and the World Bank, and facilitated by JRT on the sidelines of AGRF, which saw participants from ministries of agriculture exchanging their experience of designing and implementing policy approaches to sustainable agriculture that achieve triple wins for people, nature, and climate. Throughout the week that followed, JRT saw conversations align on the need for dialogues that is continuous and inclusive as key to implementing policy approaches that improve the lives of farmers, especially women, youth, and local communities, within the sector.
"We can't do business as usual, and we have to tackle this climate crisis. The whole point of the policy dialogue is so that people benefit. We are growing evidence of opportunities so that we can reset how public policy sets incentives and expenditure." 

– Rachel Waterhouse, UK Foreign, Commonwealth & Development Office (FCDO)
Returning from the summit, JRT was pleased to see renewed political commitments to amplify the voices of those most vulnerable to climate impacts and food insecurity, with events throughout the week amplifying the role that women and youth must play in the construction and implementation of more equitable and climate-resilient food systems across Africa. As we look towards COP28, we join delegates in their feeling of urgency to come together between continents and communities for more sustainable, innovative, and inclusive food systems around the world.