As agriculture takes centre stage at COP27, we must listen to farmers
26 August 2022
As the impacts of the climate crisis grow more pressing with each year, the UN's annual climate change conference – better known as COP – is greeted with increasing anticipation. This year, Egypt, as the host of COP27, has announced an entire day focused on adaptation and agriculture.
This is both fitting and long overdue. Food security is now high on the political agenda after the COVID-19 pandemic and conflict in Ukraine highlighted the fragility of our food systems. But this is not a new crisis. Food insecurity has been rising since 2014. Rapid changes in temperature and rainfall, together with increased incidence of pests and diseases as well as frequent extreme weather events, are having a significant impact on production and farmer livelihoods. The number of days with climatically stressful conditions for outdoor food producers continue to rise, and climate change will make some food production areas unusable. 
It is therefore heartening to see that adaptation and agriculture will be centre stage at COP27, and not only because agriculture and food systems – responsible for one third of all greenhouse gas emissions – must contribute to the global goal of limiting warming to below 1.5 degrees. This focus is also imperative because we can't nourish a growing global population and promote a just rural transition without strengthening the resilience of food systems to the climate impacts already locked in. And the only way we can take the bold action needed is by listening to and learning from those on the frontlines of food production. 
Egypt leads the call for more implementation and finance 
Egypt's COP27 Presidency is drawing much-needed attention to the resources needed to ensure African countries can adapt and respond to the growing challenges facing agricultural production. In July, while visiting Egypt for consultations with the COP27 Presidency on their new agricultural initiative, I was fortunate enough to see first-hand how farmers are already adapting to bolster climate resilience and rural livelihoods.  
Egypt's food systems face many difficulties, including rising temperatures, increased frequency of droughts and floods, salination and reduced soil fertility. Water scarcity has long been a particular challenge. Almost all of the country's agricultural production – and population – is located along the Nile, which is likely to see increased disruptions to its water flow in the coming decades.
As Egypt has traditionally imported 85% of its wheat from Russia and Ukraine, the pressure is on for local farmers to strengthen food security. A number of large projects are in development to create new agricultural production areas and new jobs for young farmers. We drove past one, a vast expanse of hundred thousand agricultural greenhouses that use water-saving technologies to increase the production of fruits and vegetables for both domestic use and the export market.  
Farmer field schools 
Action is also happening at the local level. Our delegation visited two farmer field schools in the villages of el-Gehad and el-Fedda, about two hours' drive south of Cairo. At the first, maize farmers were exploring different ways to increase their yields through the use of more resilient crop varieties, bio-fertilizer and drip irrigation to also save water. At the second school I visited, local women were raising goats as part of a networked project to increase local goat milk production. 
Designed and supported by the FAO, farmer field schools have been operating globally for over 30 years. They bring together farmers in a local community and introduce new practices to improve sustainable production. Most importantly, they encourage farmers to learn from one another by trialling different methods and experiencing the results on a study plot.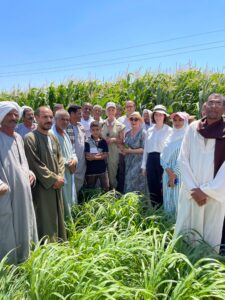 Farmers at the el-Gehad farmer field school
I met Safaa, one of the field school facilitators, who explained how a shift in mindset and culture was an important element of farmer field schools. "The idea of farmers sharing experiences and solutions with each other is new here," she said. "But now the local community is cooperating on various things, including climate change adaptation." Safaa described how the farmers' face-to-face meetings are supplemented by active online discussions, allowing them to ask questions and share lessons learned whenever they want.
The theory behind these schools is that farmers learn best from each other. As one participant noted, "Getting farmers to exchange knowledge is better than bringing in someone from outside the local area who doesn't understand the local problems." That's why the schools are led by facilitators, not teachers. Even though people like Safaa are highly trained and experienced, they are careful not to impose their own ways of thinking or farming on attendees.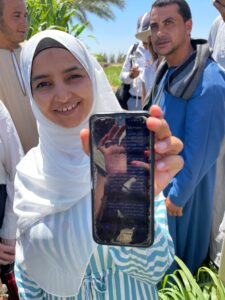 Farmer field school facilitator Safaa Ragab displays one of the farmers' online discussions.
Farmers are part of the solution 
Bolstering the ability of farmers to adapt to climate change and scale sustainable and regenerative agricultural practices must be one of the priority areas of action coming out of COP27. We must support COP27's call for more resources for initiatives – like farmer field schools – that enable farmers adapt to climate change, contribute to greenhouse gas emissions and introduce nature-friendly practices. This means taking the time to find out what farmers need, what they are already doing, and how research, technological innovation and policy reform can be better targeted to support them.
Farmers are part of the solution, but we all have a role to play – consumers, businesses, investors, governments and civil society. This message needs to be loud and clear in the plenaries and pavilions of COP27 if we are to make a significant and lasting change to our fight against the climate crisis.