Our food systems must change 
The world's food systems are under immense strain. The climate crisis, the COVID-19 pandemic and global political instability are all contributing to rising hunger and malnutrition worldwide. Most agricultural workers live in poverty, with poor job security, no social protection and often dangerous working conditions. 
At the same time, agriculture is the largest driver of habitat destruction and biodiversity loss. Food systems are responsible for around a third of global greenhouse gas emissions. This figure is predicted to rise. 
There is an urgent need to transition to food systems that are more resilient, equitable and environmentally sustainable. However, because food is so essential to human survival, and so many livelihoods depend on food systems, these changes need to be made with great care to ensure the transition itself is fair and inclusive. 
The 10 principles
This report lays out 10 guiding principles for achieving just food system transitions. It explores their implications in terms of desired outcomes, planning and decision-making processes, systemic changes that may be needed, and tensions that must be managed.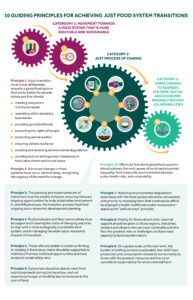 Click the image to enlarge.
Principles 1 and 2 describe what a just and sustainable food system would look like and the scope and pace of changes needed to achieve it. Principles 3 through 9 define a just process of change. Principle 10 highlights the need to use the food system transition to address systemic social and economic inequalities and vulnerabilities. 
The purpose of these principles is to help food systems actors – governments, businesses, investors, farmers, labour unions, international organizations, civil society organizations and rural communities – promote a global food system that works better for people, nature and the climate. 
Ways forward
The next step is to look for opportunities to implement these principles. There is already significant and growing global awareness of some of the changes we need, from fairer treatment for farmers to stronger checks on the power of global agribusinesses. Many governments are also trying to align incentives for food production with sustainability priorities.
At the same time, some actions to ensure a just transition will come from outside food systems. These include efforts to reduce poverty, provide public infrastructure and strengthen ecosystem and conservation policies. 
Transforming our food systems will be an enormous task. But as this report makes clear, continuing with business as usual is no longer an option. We hope the 10 principles presented in this report provide helpful guidance and inspiration for building sustainable, equitable and just food systems. 
Read the full report here.